🌟 Don't miss out on our Spring Sale! It's the perfect opportunity to snag some amazing deals before they're gone. 🌟
SMART AND ECO FRIENDLY BEACH TOWELS
Calling all water and beach lovers, including our little adventurers! Discover our eco-friendly beach towels inspired by the Australian Outback and the beauty of the oceans. Choose from our captivating collection or personalize your own. Find your perfect companion for beach bliss and outdoor adventure with Dropbear Outdoors.
Double the Fun, Half the Hassle: Wear it as a stylish poncho or use it as a super-absorbent towel. Why choose when you can have both?
Hands-Free Fiesta: Wave, dance, or snap a selfie! With our poncho towels, your hands are free to join the party.
Travel Buddy: Lightweight and compact, it's the perfect sidekick for beach escapades, pool parties, or spontaneous adventures.
Fashion Meets Function: Dive into our splashy designs and colours. Look fabulous while you dry off!
Kid-Approved: Little ones can play, twirl, and imagine they're superheros with these fun and snugly poncho towels. Say goodbye to dropped towels and chilly kiddos!
BROWSE ALL DESIGNS
TOP RATED WEARABLE TOWEL IN AUSTRALIA
I can't thank you enough for the wonderful poncho towel. It has truly enhanced my early morning surf experience, and I couldn't resist getting one for my partner as well. The discount and timely delivery made it even better.

Jenny
Falling head over heels for these poncho towels!!! They're seriously snug after a swim and crazy comfy for chilling on the boat or chillingaxing after beach time...totally gotta grab more for my water enthusiast pals!

Taleatha
I got a poncho towel customized for my mum as a birthday present. We nailed it, she loves the design so much! The Dropbear team helped me with the design, all changes and the outcome is amazing. The colours are really stunning. The best part is, that they are made of recycled plastic!!

Caro
The shipping was fast. The Poncho is in a great quality and looks pretty good. That is going to be my favorite towel.

Susan
Since a while I wanted to have a Poncho Towel. I think it´s the best solution to get changed on the beach or on a boat. The design is pretty cool and the shipping was fast. I will buy one more.

Rebecca
The poncho towel is super duper cool! It's like a magical cape that can transform into whatever you desire!! I get changed on the beach and camping without stress now! And when I am in a rush I just pop it on at home while I get my things sorted. I even wear it when I just chill at home. So handy. Gotta get more designs.

Tang Nuad
My towels arrived today so stoked with them. thank you guys sooo much can't wait to give them to my boofheads. I will get a photo of them for yours. Once again thank you so much.

Lincoln
My old towel died after five years of an adventures live camping and a lot of beach trips. I wanted a new one exactly like the one I had. The result lived up to my expectations. I highly recommend them to anyone that understands the nostalgia of hanging on to the good old things and to get your design realised with them. I just sent a photo, and they did the rest.

Kerman
I've purchased 3 towels originally for Christmas gifts. They look so good that I couldn´t resist to ordered another 2 for myself.

Helena
Environmental Impact
Your purchase has an impact on our environment, that´s why all of our products are made of recycled and eco-friendly materials.
How we reduce our footprint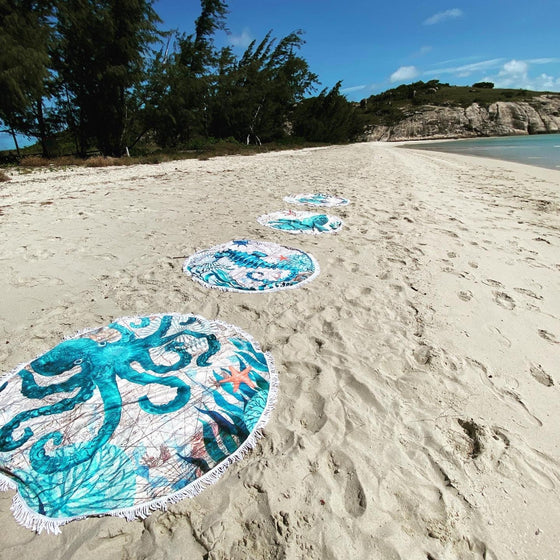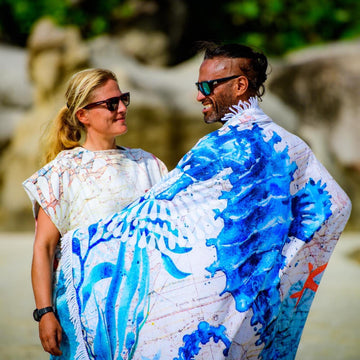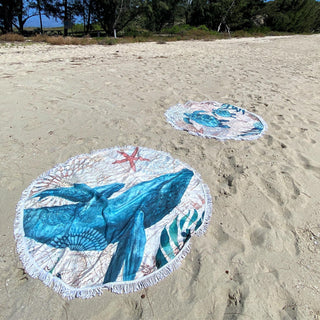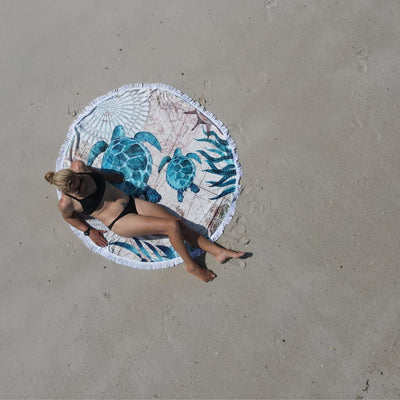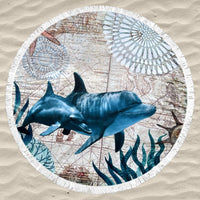 Round Beach Towels
More than just a towel...
Our round beach towels aren't just a treat for the eyes; they're versatile wonders! Perfect for beach days, romantic picnics, or snuggling up as a blanket. Plus, they double up as chic couch throws or decorative pieces. Dive into multifunctional luxury!
Round Beach Towels
Experience beach luxury with Daisy Emily Art's "King of the Bush" Beach & Sports Towel combo. Revel in the wild beauty of the bush while enjoying ultra-fast drying, lightweight, sand-free, and odor-free benefits. Conquer beach and sports days with unmatched style and comfort.